Multiway Driver Kits
Features and Benefits
5 year guarantee
4 or 6 way driver
Low driver cost per port
Plug and play installation
240V AC or 12-30V DC versions
Complete kits available
Product Description
Multi-Way Drivers can operate 4 or 6 LED lamps and are available in kits with lamps and power supplies. The standard 4 and 6 way drivers operate from a 240v mains supply.

Multi-Way Drivers feature plug and play RJ45 installation and reduced driver cost per port (when compared to single drivers).

Also available is a variable input voltage unit which is suitable for battery operated systems such as boats and caravans.

Available Q4 2009.

This product may qualify for an interest-free Energy Efficiency Loan from the Carbon Trust.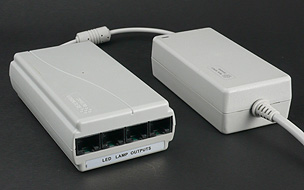 Ordering Information
Item
Order Code
4 Way Non Dimmable Driver
350mA & PSU
DRI-4-350-PSU
6 Way Non Dimmable Driver
350mA & PSU
DRI-6-350-PSU
4 Way Lamp and Driver Kit
4W-KIT-WW(R)
6 Way Lamp and Driver Kit
6W-KIT-WW(R)
4 Way Driver - Multi Voltage
DRI-4-MV
4 Way Driver & Lamp Kit -
Multi Voltage for boats and caravans
4W-KIT-MV(R)