Single LED Drivers
Features and Benefits
5 year guarantee
Mains dimmable
1-10V dimmable
RJ45 modular connection
Mains dimmer switches available
Product Description
A range of LED drivers featuring modular RJ45
connections for use in conjunction with RESPONDALIGHT LED lamps.

Drivers are available for non-dimming and dimming applications including trailing and leading edge solutions as well as 1-10 Volts systems.

Wall mounted single and dual gang trailing edge dimmers are also available to complete the system.

Real World Designs has extensive experience in LED driver design. Ask our technical team for advice on dimming solutions and drivers.



This product may qualify for an interest-free Energy Efficiency Loan from the Carbon Trust.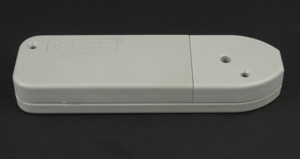 Ordering Information
| Item | Order Code |
| --- | --- |
| 240v Non Dimmable Driver 350mA | DRI-350-PFC |
| 240v Trailing Edge Dimmable Driver 350mA | DRI-350-DIM |
| 240v Universal Dimmable Driver 350mA | DRI-350-UNI |
| 240v Driver 1-10v Control 2 x 350mA | DRI-2350-110 |
| Single Gang Face Plate 1G 1W Trailing Edge Dimmer 250W | DIM-1-1-WH |
| Single Gang face Plate 1G 2W Trailing Edge Dimmer 250W or 400W | DIM-1-2-WH |