Emergency Lighting
Features and Benefits
Complies with BS EN 60598-2-22
Minimum 3hr backup time
Low energy consumption
High temperature NiMH battery pack
Easy to install RJ45 modular connectivity
Very long lamp life 50,000Hrs
Dimmable driving options
Product Description
An Emergency Lighting System compliant with EN 60598-2-22. The central component is an integrated control system which incorporates a mains Power Supply Unit, Light Emitting Diode (LED) Driver and Smart Battery Charger.

The charger is used to charge a high temperature rated, Nickel Metal Hydride battery pack and automatically detects when the cells are fully charged. The system also gives visual indication that the batteries are being charged.

The RESPONDALIGHT emergency lamp can be driven by a mains non dimmable, dimmable or 1-10 dimmable driver. The driver requires a separate power supply circuit but this can be omitted if the lamps are only required when the mains supply fails.

The controller requires a maintained power supply. This provides power for battery charging. In the event of power failure, a relay within the unit connects the batteries to the lamp via an integral driver operating at 165mA. Minimum run time in emergency mode is three hours.

Available Q4 2009.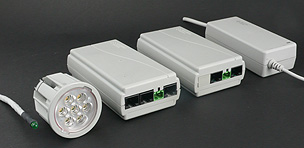 Ordering Information
| Item | Order Code |
| --- | --- |
| Emergency Light Pack 3Hr Run EM-KIT | EM-KIT |
| System Components | |
| Emergency Power Supply Unit | EM-PSU |
| Emergency Controller Driver Unit | EM-CU |
| Emergency Battery Pack | EM-BP |
Lamps can be any Standard LMP-36
Drivers can be:
Trailing Edge Dimming
Leading Edge Dimming
1-10v Dimming
Non Dimming